WHAT IS A DISPOSABLE VAPE?
A disposable vape is a compact, non-rechargeable device precharged and prefilled with e-liquid. Disposable vapes can't be recharged or refilled, and you don't have to buy and replace coils, which is how they differ from rechargeable mods. The disposable model is thrown away when there is no more e-liquid.
Using a disposable vape is a simple and economical method to start vaping. Many prefer it since it may simulate the smoking experience for those who want to quit smoking. A disposable vape may not contain buttons compared to a typical mod. It's a satisfying option for individuals who want their vaping experience to include the least effort possible because all you have to do is inhale and move on.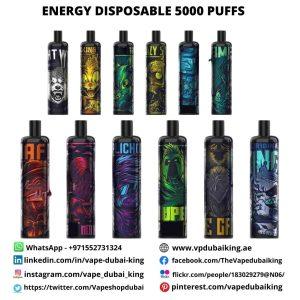 DISPOSABLE VAPE SHOPS IN DUBAI: 
Purchase the finest disposable vapes in the UAE. E-liquid is the most widely used technique for vaping tobacco. If you want to try something new or stop smoking, Disposable Vape Dubai UAE can be a suitable option. Disposable vapes are the most practical and fun option for many vapers to have a satisfactory experience. Thanks to the most practical and simple-to-use vape pen or disposable e-cigarettes on the market, you may have a wide range of incredible taste sensations with no effort.
Traveling is simpler than a pack of smokes since it is smaller than a USB disc. It comes in various delectable flavors and closely resembles the feel and pull of regular cigarettes.
HOW DO DISPOSABLE VAPE WORK?
Often, a disposable vape requires inhaling the e-liquid, just like you would with a burning cigarette. No button needs to be pressed, and the disposable vape never needs to be charged or filled with liquid. The installed e-liquid is vaporized by a coil powered by the e-cigarette battery. Depending on your vaping style, your disposable vape should last about 300 puffs if you draw on it when you're ready.
HOW LONG DOES A DISPOSABLE VAPE LAST?
Disposable vapes like the SMOK MBAR and ULTD Puff bars have 300 puffs and 1.3ml of e-liquid per device, making them ideal for weekends away or evenings out. The Geek Bar disposable has about 540 puffs and 2ml of e-liquid and is available in various sizes and puff counts. A disposable vape may be the best option if you're traveling somewhere and don't want to bring a bulkier mod and juice bottles.
You may need two of these devices to last a whole weekend because the lifespan of a disposable vape depends on how frequently you draw. However, most people concur that they are far simpler to use and take along than a bigger, more complicated box mod with all the necessary attachments.
ARE DISPOSABLE E-CIGS SAFE?
The disposable e-cigarette is normally considered significantly safer than the normal cigarette. The most dangerous components of tobacco smoke are tar and carbon monoxide, neither of which are produced by these devices. Vapour is not the same as smoke. The best action may be to try a disposable vape with a flavor you know you'll like if you want to quit smoking.