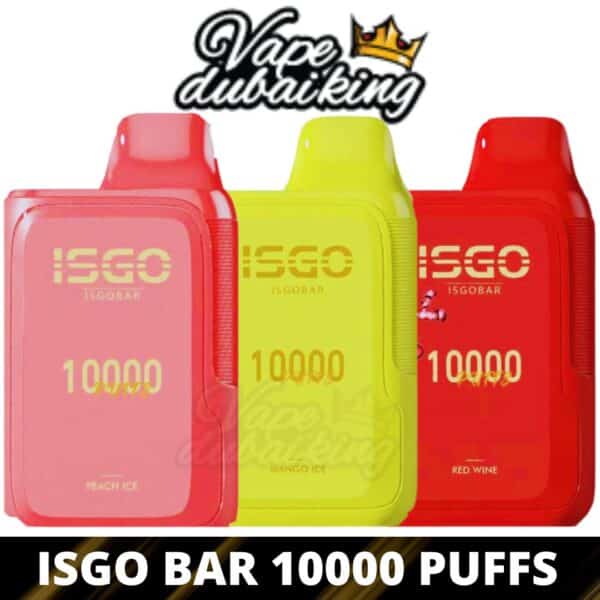 د.إ

45.00 –

د.إ

399.00
EVERYTHING YOU NEED TO KNOW ABOUT ISGO DISPOSABLE VAPE:
ISGO Vape has made a name for itself in the rapidly developing vaping industry, and its disposable vape products have attracted much interest. This disposable vape delivers a convenient and pleasant experience, whether you are a novice or a seasoned enthusiast.
ISGO VAPE with different puff counts:
The puff count, battery life, e-liquid volume, and design of disposable vapes often vary. Here is an overview of what you may anticipate from disposable vapes with various puff capacities:
ISGO Paris 1500 PUFFS:
The ISGO Paris comes with a sizable 5ml nic salt flavor pod that is pre-filled. With a robust 1100mAh integrated battery and a pleasing 5% (50mg) nicotine salt strength. The ISGO vape 1500 puffs is one of the more potent disposable vapes in the lineup and should keep you happily vaping for days. It offers roughly 1,500 puffs for each device.
 ISGO VEGAS 2800 PUFFS
A more potent variation of the original disposable vaporizer with 2800 puffs is the ISGO VEGAS Disposable Vape. It is pre-packaged as a single-use device with 2800 puffs and 7.5ml of salt nic e-liquid.
The ISGO VEGAS has a 1300mAh internal battery and provides around 2800 puffs per device with a pleasing 2% (20mg) nicotine salt concentration.
Its increased power places it among the disposable vapes' more potent models and should keep you vaping contentedly for days.
ISGO TOKYO's new 4000 Puffs
In the UAE, ISGO disposable vape is a well-known brand. The ISGO Tokyo kit includes a sizable 9ml pre-filled nic salt flavor pod. You can use this for several days with 4000 puffs per device and a pleasing 2% (20mg) nicotine salt level. Because of the 1300mAh internal battery, it is more potent and distinctive.
ISGO Vape 6000 Puffs
One of the top vape bars is this one: It includes a built-in juice pod with 12ml of E-liquid. It may effortlessly create 6000 puffs. Additionally, there is a 5% Salt Nic. That may provide the ideal vaping experience for you.
Isgo New York 8000 puffs:
The Isgo New York 8000 Puffs Disposable Vape is the best vaping product available for people seeking a potent and enduring experience. This disposable vape is ideal for vaping lovers who desire a pleasing and flavorful dose each time. It has a sizable 8000-puff estimated capacity, a 650mAh integrated battery, a type C charging connection, and a 15ml pre-filled pod.
ISGO BAR 10000 Puffs DISPOSABLE VAPE
The ultimate disposable vape, the ISGO BAR 10000 Puffs, offers a 10000-puff capacity and an unrivaled vaping experience. The ISGO BAR is the ideal alternative for vapers constantly on the go because of its stylish and transportable design.
A strong 800mAh battery ensures that you will have a lengthy vaping session with the ISGO BAR 10000 Puffs. Every time you use the device, you will have a smooth and pleasurable vaping experience because it is pre-filled with 8ml of excellent e-juice. Its simple operation makes it ideal for both novice and seasoned vapers.
Convenience Redefine
Disposable vapes from ISGO are the height of practicality. They don't require replacing coils, charging batteries, or replenishing e-liquids, making them ideal for hassle-free vaping. Open the box, light it, and properly dispose of the device afterward.
Options for Various Flavours
The wide variety of flavors ISGO disposable vapes offer is one of their best qualities. ISGO provides a variety of flavor profiles, from traditional tobacco and menthol to fruity blends and decadent desserts. There is probably an ISGO disposable vape flavor that meets your taste, whether you're in the mood for something familiar or new.
IN A NUTSHELL:
The disposable ISGO vape is unquestionably revolutionary in the vaping industry. It's hardly surprising that it has become popular among vapers given its outstanding puff volume, substantial battery, and selection of tasty alternatives.
Discover your ideal vaping partner by perusing the wide selection of ISOBAR flavors, and take pleasure in a practical, flavorful, and enduring experience.