SMOK Nord 4 80W Pod Kit is an emblematic pod system kit with versatile capabilities, which can give full play to the performance and advantages of the entire device. It has a built-in 2000mAh battery, enough to provide a maximum power of 80 watts. The kit comes with two 4.5ml nord 4 pods, one with an RPM 2 mesh coil and the other with an RPM mesh coil. Besides, two air-inlet rings are cleverly designed on the top of the device for free adjustment of air intake. smok vapor build this stunner for you, and you make it yours. Innovation keeps changing the vaping experience!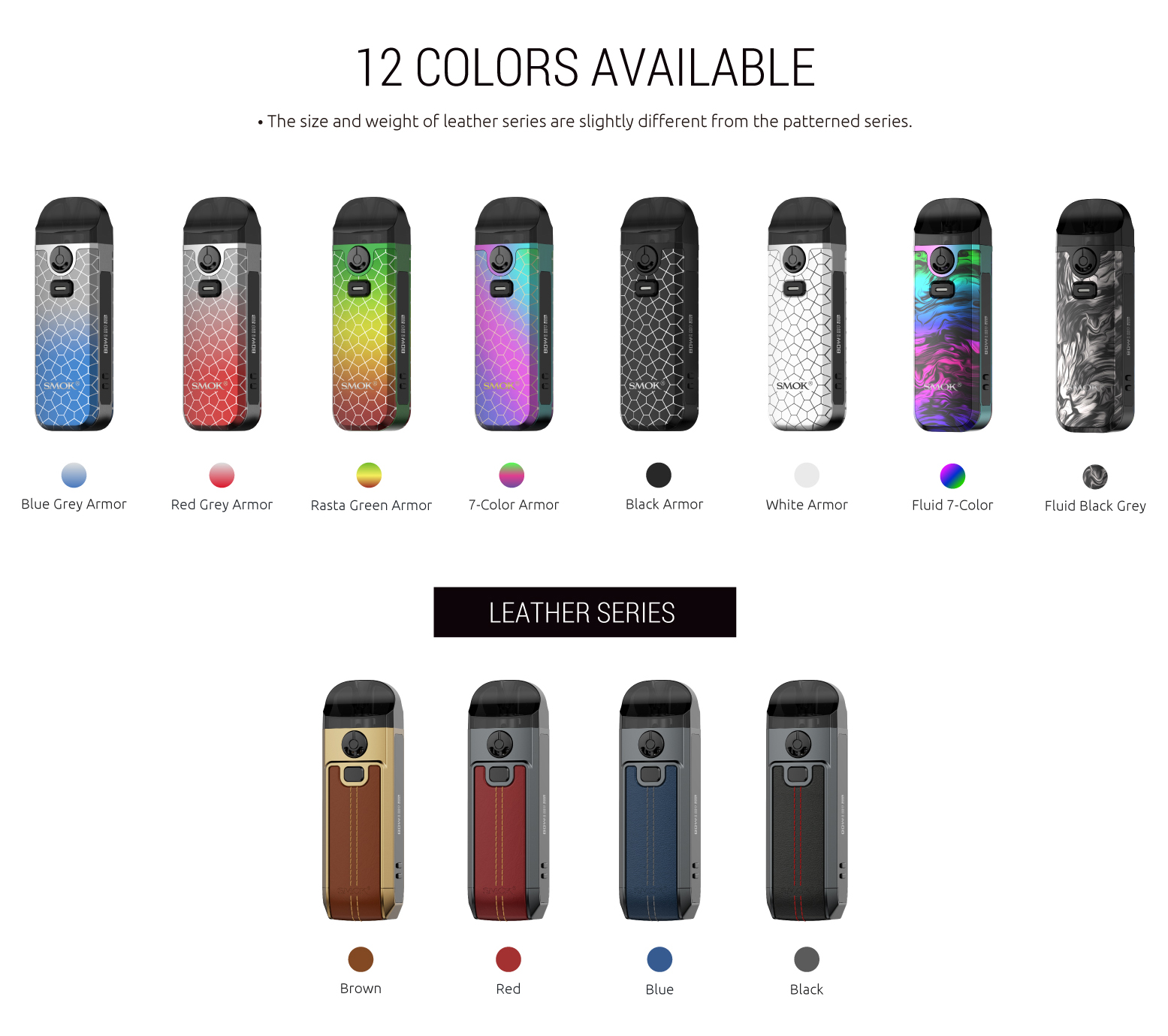 Now we have the Nord 4 which brings adjustable wattage up to 80W, a larger 2000mAh battery, and dual-adjustable airflow rings. It comes with two pods and coils: an RPM pod and coil and an RPM 2 pod and coil. Both pods have a 4.5ml capacity and are compatible with all coils from their respective coil ranges.
Box Contents
1 x SMOK Nord 4 Device
1 x SMOK Nord 4 RPM2 Pod
1 x RPM2 Mesh 0.4ohm Coil (Pre-Installed)
1 x SMOK Nord 4 RPM Pod
1 x RPM Mesh 0.4ohm Coil (Pre-Installed)
1 x Type-C Cable
1 x User Manual
SMOK Nord 4 80W Pod Kit Specifications
Size: 33.7mm x 24.4mm x 104.9mm
Weighs 115g
Adjustable Wattage: 5-80W
OLED Display
2000mAh Battery
4.5ml E-Liquid Pod Capacity
2 Adjustable Airflow Rings
Button Activated Firing
Type-C Fast Charging
SMOK Nord 4 80W Pod Kit Review
SMOK nord 4 80W Pod system, featuring a 2000mAh battery, 5-80W output range, and two proprietary pods for the RPM & RPM 2 Coil Series. Constructed from durable zinc-alloy, the chassis of the nord 4 pod kit features dual airflow adjustment dials to grant the user precise control over the airflow entering the coil. Offering a 5-80W output range, the Nord 4 pod kit can deliver satisfying vapor from the RPM or RPM 2 Coil Series when used in the respective pod. Holding up to 4.5mL of eJuice or nicotine salt, the SMOK Nord 4 delivers delectable flavors and vapor at the press of the intuitive firing button and features two adjustment buttons at the bottom of the side-mounted screen.