Luxe X Pod cartridge by Vaporesso can be filled with 5mL of e-juice, including e-liquid with a high vegetable glycerin (VG) concentration. These disposable Vaporesso Luxe X Pods are made with Corex Technology that enhances vapour flavour and prolongs the pod's life so you can enjoy either mouth-to-lung (MTL) or direct-lung (DL) vaping from from either of the dedicated Luxe X Pods that are designed with different resistances and airflow to suit.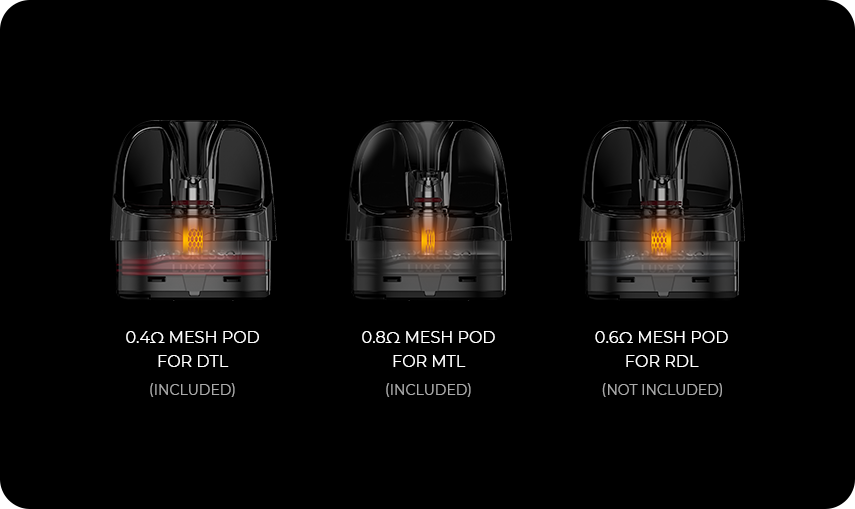 Vaporesso Luxe X Pods Compatible Device:
Luxe X Pod Kit
Luxe XR Pod Kit
Luxe XR Max Pod Mod Kit.
Please note:
Remember to prime new pods before vaping. Fill pods with e-juice, then let them sit for around five minutes before vaping to saturate the coil cotton and avoid getting dry hits or prematurely burning your built-in coil.
Luxe X pod cartridge Soacifications:
Vape juice capacity: 5mL
SSS Leak-Resistant Technology
Corex Technology – upgraded cotton blend for better flavour
Smooth airflow
Easy bottom filling
MTL and DL draws
Different resistance, airflow and mouthpiece size for each pod to suit MTL or DL
Sold in packs of two pods
Can be used with Vaporesso Luxe X Pod Kits, Luxe XR Pod Kits and Luxe XR Max Pod Mod Kits