The Elf Bar PI9000 puffs is a type of disposable vape device. Disposable vapes are pre-filled, single-use electronic cigarettes that come pre-charged and pre-filled with e-liquid. They are designed to be discarded once the e-liquid is depleted or the battery runs out.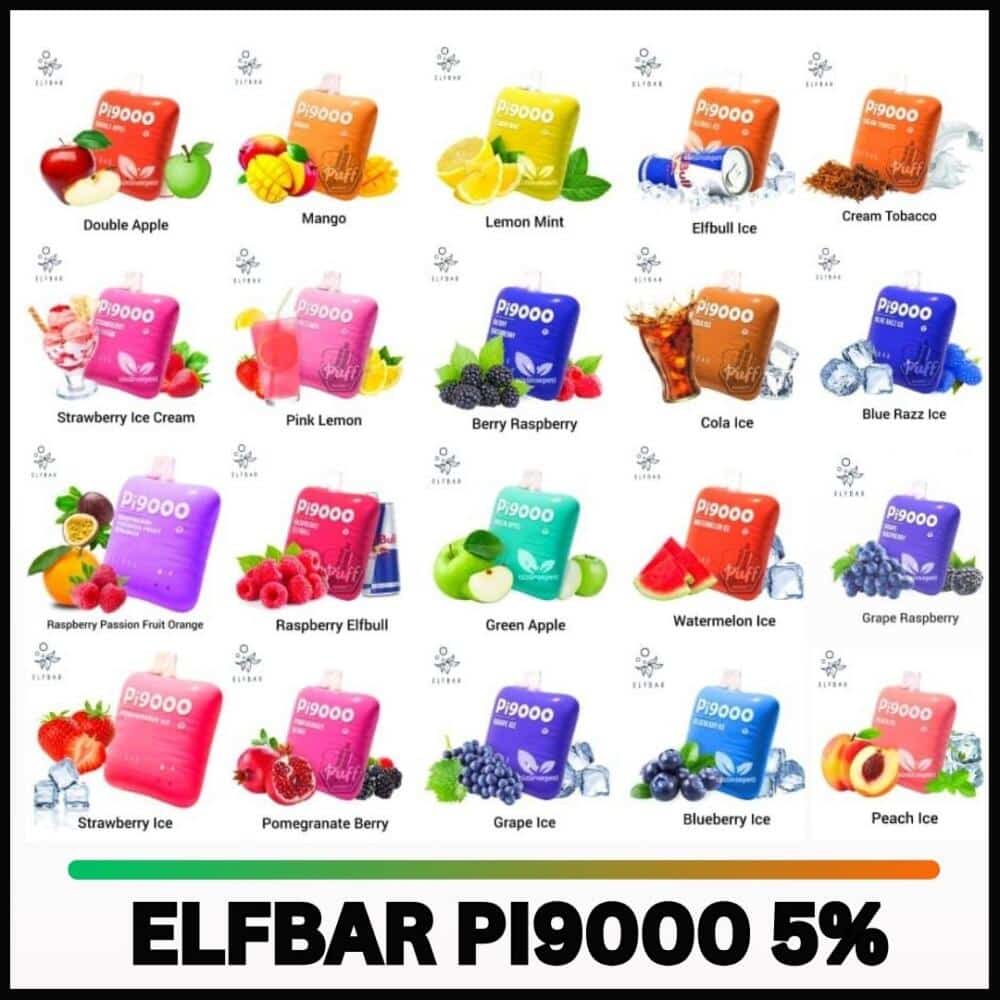 Elf Bar Pi9000 Puffs Disposable Vape Reiew
The Elf Bar PI9000 disposable vape likely features a compact and portable design, making it convenient for on-the-go use. It typically includes a built-in battery, an atomizer, and a pre-filled e-liquid reservoir. This disposable vape also offers a whopping 9000 puffs per device. It is a great option for vapers who want a long-lasting and convenient vaping experience.
It features a pre-filled 18 mL e-liquid cartridge with a 50mg nicotine salt concentration. It also has a built-in mesh coil that produces flavorful and satisfying vapor. The Elf Bar disposable Pi9000 is available in a variety of delicious flavors, including Watermelon, Strawberry, Mango, and Blueberry. It is also available in a variety of colors, including pink, blue, and green.
Features of the Elf Bar Pi9000:
9000 puffs per device
18mL pre-filled e-liquid cartridge
50mg nicotine salt concentration
Built-in mesh coil
Variety of delicious flavors
Variety of colors
This is a great option for vapers who want a long-lasting, convenient, and flavourful vaping experience. It is available for purchase online and at select vape shops.
Elf Bar Pi9000 Disposable Vape Flavors:
Peach Ice: Juicy peach with a cool icy twist in Peach Ice.
Elfbull Ice: Energizing Elfbull flavor with a refreshing icy kick in Elfbull Ice.
Pink Lemon: Zesty lemon with a touch of sweetness in Pink Lemon.
Pomegranate Berry: Tart pomegranate combined with mixed berries in Pomegranate Berry.
Berry Raspberry: Sweet berries blended with tangy raspberry in Berry Raspberry.
Strawberry Ice: Ripe strawberries with a refreshing icy blast in Strawberry Ice.
Green Apple: Crisp and tart green apple flavor in Green Apple.
Raspberry Elfbull: Raspberry infused with the energizing taste of Elfbull in Raspberry Elfbull.
Blue Razz Ice: Tangy blue raspberry with a cool menthol twist in Blue Razz Ice.
Blueberry Ice: Juicy blueberries with a refreshing icy sensation in Blueberry Ice.
Watermelon Ice: Juicy watermelon with a cool and refreshing icy touch in Watermelon Ice.
Raspberry Passionfruit Orange: Tangy raspberry, tropical passionfruit, and zesty orange in Raspberry Passionfruit Orange.
Strawberry Ice Cream: Creamy strawberry ice cream flavor in Strawberry Ice Cream.
Lychee Ice: Exotic lychee fruit with a cool menthol breeze in Lychee Ice.
Coconut Water: Refreshing and tropical coconut water flavor in Coconut Water.
Lemon Mint: Zesty lemon combined with refreshing mint in Lemon Mint.
Grape Ice: Sweet and juicy grape flavor with a cool menthol kick in Grape Ice.
Strawberry Juicy Peach: Ripe strawberries blended with juicy peaches in Strawberry Juicy Peach.
Cool Mint: Refreshing and invigorating minty coolness in Cool Mint.
Peach Mango Watermelon: Juicy peach, tropical mango, and refreshing watermelon in Peach Mango Watermelon.
Pros and Cons of Pi9000:
Pros:
Long-lasting (9000 puffs per device)
Convenient (pre-filled cartridge, no need to refill or charge)
Flavorful (mesh coil produces great vapor)
Affordable
Cons:
Nicotine salt concentration may be too strong for some vapers
Flavor selection may be limited
Not as durable as some other disposable vapes
Overall, this is a great option for vapers who want a long-lasting, convenient, and flavourful vaping experience. It is affordable and easy to use, making it a great choice for both new and experienced vapers.